The Windows Phone Marketplace is dead, long live the Windows Phone Store. Microsoft is implementing a re-brand of the
online app store for your Windows Phone. There is a new look to the site and a couple of new menu options including "News". The apps are now organised slightly differently, to be discovered more intuitively. Also search functions within the store are now powered by Bing so, for instance, you get pertinent suggestions when you misspell your searches.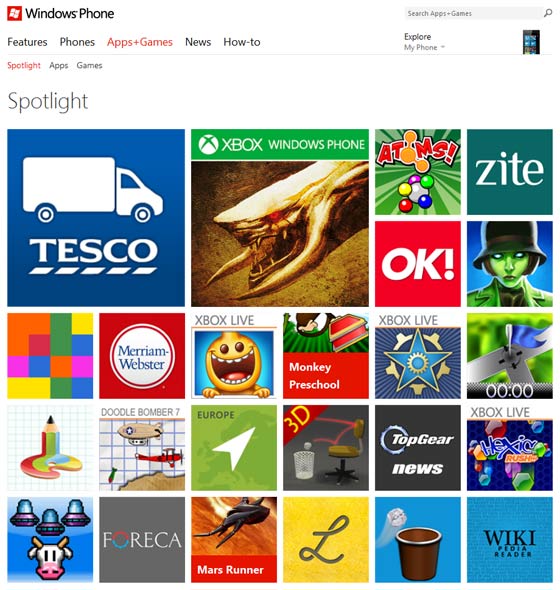 The new website and online app store was announced on the Windows Phone blog yesterday. New Zealand and Australia are cited as being the first locations that would benefit from the new store changes but I've checked just now and the UK has been furnished with the same new Windows Phone Store as shown in the blog. (Minus the Best rated sub menus, for now).
The new Windows Phone Store shares a similar branding and the same logo icon
as the Windows Store for Windows 8.
The new menu option Apps & Games is supposed to make things simpler for newbies to find downloads for their smartphones. Within the app store proper Microsoft has made "smarter app lists". In addition to all the sub categories in Apps and in Games there are menus for choosing Featured, Top free, New+Rising, Top paid and Best rated (Games also has an Xbox category). These changes will not be within the app store on your mobile as yet. I guess we may have to wait for WP7.8 and WP8 for the some of the web updates to occur on our smartphones.

The News menu aggregates Windows Phone related news, stories from tech sites,
blog posts and videos.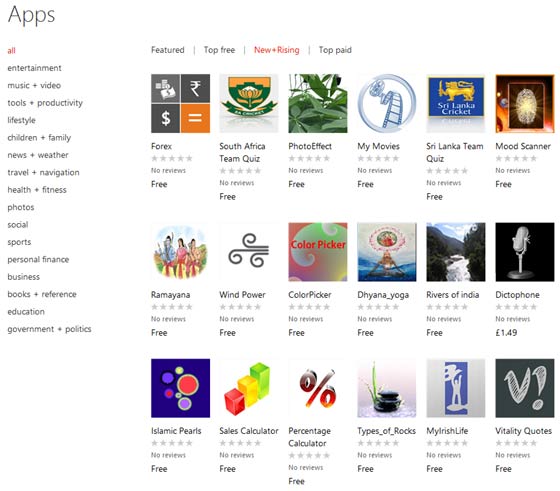 Search.

The improved search powered by Bing can, as mentioned above, find apps even if you misspell their name, purpose or category. Also apps can be found by function even though that function may not be within their name. Similarly searching by genre is now a possibility. All these search enhancements do appear to be working in the "Marketplace" app on Windows Phone now.

No sex please, we're British:
Microsoft has sought to make the store more family friendly by making the "racier apps a little less visible". Also there will be a mechanism to report apps that you find offensive, inappropriate or that simply doesn't work as described. Every app will have a "Report concern" link located on its download page. More changes and improvements are to come according to the Microsoft blog. One area that users have already highlighted needs a tweak concerns the Apps>Top paid category; it's currently dominated, for some reason, by Xbox games which should be confined to the Games>Top paid category.
Source: hexus.net